What We've Achieved
I am proud to highlight my own dogs' achievements using the training principles.
Alexander, MX, MXJ, CGC, Greyhound 7/22/1997-12/14/2010
Alex was my first performance dog. I started agility hoping to improve our relationship; Alex was an active and destructive young dog who needed an outlet for his energy. Our initial foray into agility was an eye-opening experience for us, and I gained the key I needed to focus his enthusiasm.
Alex gained his Masters titles in standard agility and jumpers in AKC on the same day in June 2006 earning him the #3 placement among AKC agility greyhounds. He continued to compete, but was moved to the preferred class, and was completely retired in March 2008. Since acquiring his titles he remains the #3 AKC greyhound ever to have competed in AKC. To meet the other top greyhounds in this venue, visit: www.neversaynevergreyhounds.net
MACh Andrew, Sheltie 1/24/2000-4/25/2015
Andrew was not the ideal agility competitor. He was a rescued dog, who survived a broken front leg, heartworm disease and multiple re-homings. His legacy was a questionable temperament stemming from fear and mistrust. We used agility with positive training methodology to overcome all these obstacles.
Andrew started to compete in agility not long after I started Alex. At his very first trial he qualified 7/8 runs, and continued that level of consistency to achieve his Championship title in Louisville KY in March 2006. He competed in the AKC National Agility Championships three times, most recently in the preferred division at West Virginia in 2011, earning a 4th place in the hybrid class, and an opportunity to wow the crowd in the Challenger's Round.
https://www.youtube.com/watch?v=O21EVoQPJUc&list=UURkeZj5zujsxKsadEL2Q7DA
Phaedra Basilica, JC, Borzoi 4/19/2004-1/12/2011
Because of my success with Alex, I thought I'd try something more challenging; a borzoi (Russian wolfhound). He was my first dog with intentional "foundation" training, making him my best trained agility dog. Some of his training videos can be seen at:
https://www.youtube.com/watch?v=ItTiVHvE7HI&list=UURkeZj5zujsxKsadEL2Q7DA
MACh Amelia's Heart of Aidan, JC, MXB, MJG, OF, and AKC Special Award of MErit: Outstanding Performance in the PREFERRED Agility Classes -Top Whippet 2013 11/14/2005-1/14/2015
Aidan the whippet was a gift from a wonderful breeder who believed in my capabilities as a trainer. His natural aptitudes for the sport were tremendous. You can see a few of his runs on:
https://www.youtube.com/watch?v=0BAVPWDHc3g&list=UURkeZj5zujsxKsadEL2Q7DA
He qualified for his first AKC Invitational in 2010, appeared on the short list for 2011, placed admirably in the competitive 26" division at the 2011 AKC National Agility Championships, and competed in the overwhelming 20" division at the 2013 Agility Championships in Tulsa OK.
In January 2012, Aidan achieved a milestone in agility history by becoming the 11th whippet ever to earn his championship title, and the only whippet with Addison's disease to do so. Aidan was diagnosed with Addison's disease (hypoadrenocorticism) in 2009 when he collapsed at an agility trial in Louisville, Kentucky. Tests showed that part of his adrenal gland was no longer functioning, and he was not making hormones necessary for life. Once supplied with the correct doses of corticosteroids and mineralocorticoids (prednisone and percorten), Aidan improved, and eventually went back to training in agility. Aidan stands as one of the top whippets competing in dog agility.
MACH Douglas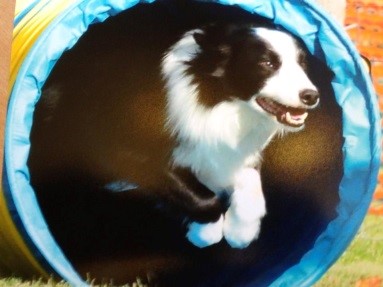 Doug is my rebound dog, and my first border collie. We acquired him from a rescue group in 2011, and he has infiltrated our hearts with his cheery and lovable nature. He had some big paws to fill, and did it with suprising grace. His previous anxiety has been overcome with copious behavior modification.
Wow, what a goofball! It's about time we have another greyhound in our life. This is our first girl, though, and she is as headstrong, loving and outgoing a dog as we could have found. Thanks to St Louis REGAP: www.regap.com for connecting us to this lovely girl. She comes with her own set of issues that continue to stretch and challenge my skills in training and behavior modification.
Bluefire Magnificat (TEIG), Ax, AXJ
We acquired Teig from the lovely Bluefire line of performance border collies, (http://bowwowvideo.com/)and what a dream he has been! Adorable, inquisitive, fiercely determined, patient, brilliant; I often say he is performing calculus on the fly. He easily mastered the early stages of agility, but when he found his wings, we started to learn how to fly together. His education has been a culmination of much of what I have learned about dog behavior, and his successes will only be limited by my own creative limitations. There is nothing Teig cannot do!
Oxota Molodezovna Trapezium (Helen)
Our Second borzoi is from the incredible Oxota Kennels in new Mexico; this pup has fulfilled my wildest dreams. Easy to train, outgoing, resilient, and brilliant, she makes a perfect ambassador for the breed. After just a few trials, she has made a name for herself locally and impresses the world with her sporting attitude.